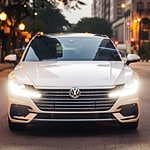 Are you shopping for a new fastback? At Volkswagen of Salem in Salem, OR, the Volkswagen Arteon is an all-new fastback that is popular with our customers because it's loaded with advanced features, which include stylish and functional features that you can explore below.
The Arteon has a classic fastback design with a roofline that seamlessly slopes downward to enhance style and performance. Another design feature of the Arteon is the Hands-Free Easy Open Trunk. This feature allows you to open the trunk when the key fob is at your side and you move your foot under the back bumper. The Hands-Free Easy Open Trunk comes in handy when you're hands are full.
This fastback also comes with LED lighting that provides you with an illuminating view of the road ahead. LED headlights with LED Daytime Running Lights are standard with the Volkswagen Arteon, and the LED taillights are long-lasting, efficient, and stylish.